Free Standard Shipping on US orders $100.00 or more!
** 4/30/2020 - We are experiencing a tremendous surge in orders - as a result it may take more time than normal to ship. **
Thanks for your patience!
Have you heard about our Frequent Buyer Rewards Program? - Calico Credits
Earn 10% back on every purchase - register for an account with us today!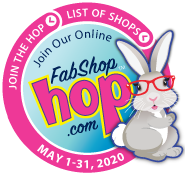 The Bunny loves Patterns!